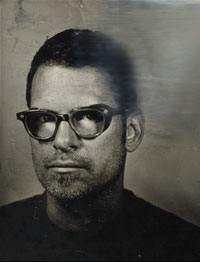 "Inspired by human curiosity and the wonderful mechanisms curiosity drives, the forms I present emerge from a disordered mechanical history, often revealed through a dystopian lens."
Born in Ames, Iowa, in 1968, Greg experienced a somewhat nomadic childhood, spending the majority of his youth in Utah and Colorado. His interest in the mechanical surfaced at age five, when he began disassembling anything with screws in it. By the age of twelve he had taught himself to mine his backyard with homemade explosives (no injuries!). Then, after being successfully ejected from a series of public and private learning institutions, Greg, equivalency test in hand, entered the Colorado Academy of Art, beginning his undergraduate studies at sixteen.
In 1987, after receiving a degree in graphic design, Greg set off for California. Over the next two decades, he forged a successful career as an award-winning commercial artist, while honing his skills as a sculptor.
With a consuming drive to build things that often escalate in complexity as they take shape, Greg's work is compulsive. Working with hammer-formed steel and re-purposed objects, his themes tend to be mythological in nature, revealed through a dystopian view of pop culture.
Greg's work has received international recognition, has been exhibited throughout the United States and is collected worldwide. In 2007, he was invited to serve as the featured artist at the Technology, Entertainment and Design (TED) Conference in Monterey, California, joining the ranks of some of the most prestigious artists, luminaries, and scientists of our time. He currently resides in Los Angeles, California, where he continues to sculpt and experiment.